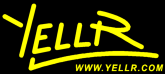 Instructions

Quick and easy installation
Simple four-wire connection. Every Yellow Box includes a splice wiring harness.
A custom made YB plug-n-play wiring harness is an optional extra.

Simple, intuitive speedometer recalibration
1. Determine your vehicle's total speedometer error.
2. Set the Yellow Box switches to correct your total speedo error.
3. Fine tune or adjust your speedo correction at anytime with ease.

It's that simple!











Yellow Box v3 Instructions
(Previous model sold prior to March 2008)
Using the Yellow Box v3

yb3_using.doc (101kb)
Installing the Yellow Box v3

yb3_insta.doc (522kb)
Calibrating the Yellow Box v3

yb3_calib.doc (265kb)
Correction Ratio Table v3

yb3_table.pdf (105kb)



| &nbsp Warranty | History | Privacy | Security | Environment |