!==========================================================================> <! Begin body and universal page properties > <!==========================================================================>

<!==========================================================================> <! Header Pictures > <!==========================================================================>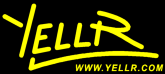 <!==========================================================================> <! Contents Pages; > <! * Yellow Box YBX (index.htm) > <! *Policies (Policy.htm) > <! * FAQ (yb_faq.htm) > <! * History (yb_hist.htm) > <! * Order Now! (ordering.htm) > <! * Instructions (yb_inst.htm) > <! * email us (email) > <!==========================================================================> <!==========================================================================> <! Header links > <!==========================================================================>

Yellow Box &nbsp &nbsp FAQ &nbsp &nbsp History &nbsp &nbsp Order Now! &nbsp &nbsp email us

<!==========================================================================> <! Page Contents > <!==========================================================================>
Latest model Yellow Box YBX Speedo Recalibrator

New product for October 2021
In 1999 we created the worlds first digital speedometer recalibrator!
Over the last 22 years we have continually improved our product...
and now we are proud to release our most technologically advanced recalibrator;


<!==========================================================================> <! Main Picture > <!==========================================================================>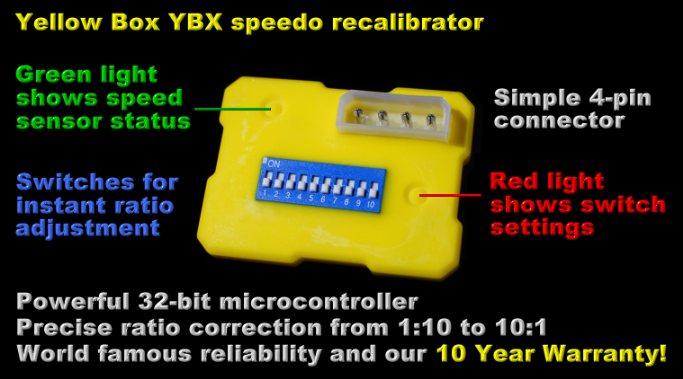 Yellow Box YBX features
Fully compatible with standard speedo systems (Hall-effect, reed switch, inductive coil sensor systems)
Powerful new 32bit microchip gives precision correction
Instant response with no speedo lag
Switch adjustment for instant "set and forget" convenience
Dedicated speed sensor green indicator light
Dedicated red light confirms the switch settings
Instant switch selection of output signal type
Micropower device - can be powered directly from vehicle speed sensor
Can correct speedometer, or tachometer
Super-tough yellow molded plastic body
Tiny lightweight design
Still has our famous 10 year replacement warranty


10 Year Warranty
Like all previous Yellow Box versions, this is a high quality product produced
in Australia by craftsmen. We are proud of our quality control and extensive
testing during manufacture and we back this up with our 10 Year Warranty.





If your Yellow Box fails within 10 years of purchasing we will replace it
with a new product. You pay the postage to us, we pay the return postage.


Speedo correction
The Yellow Box unit is installed permanently in the vehicle and performs real-time
correction of the speedometer signal.





The Yellow Box receives electrical pulses from the vehicle speed sensor.
The high-speed microcontroller (tiny computer) inside the Yellow Box uses
our proprietary software to precisely correct the signal pulses in real time.





With only 4 wires the Yellow Box is a fairly simple installation. Plug-n-play harnesses
are available for many motorcycles, older 4WDs, and some sportscars, but in other
models you will need to splice the Yellow Box into the speedo sensor wiring and
provide +12volt (or +5volt) power and ground.

NOTE! The Yellow Box has been very carefully tested before it leaves
our factory and is guaranteed to be working. Installation in the vehicle
requires a certain amount of expertise so please consider using an auto
electrician if you think you may have trouble installing it.

We can only provide a small amount of tech support time per customer,
so please check your installation carefully! Many vehicle forums have
Yellow Box installation guides available.


Instructions
Yellow Box YBX - General installation guides;





Using the Yellow Box YBX Yellow Box - YBX 2023 Instructions
Installing the Yellow Box YBX Yellow Box - General Splice Installation
Yellow Box Harness wire colours Yellow Box - Splice Harness wire colours
Install Diagram for "2-wire" sensors Diagram for "2-wire" inductive coil sensors


Specifications

Power supply DC voltage; 5v to 14.5v (12v automotive)
Power supply current; Typically under 4 mA
Input signal; 2v to 20v DC squarewave, (or) 2v to 30v AC sinewave
Output signal; square / sine (switch selectable)
Freq range; 1Hz to 6000Hz (all standard speedo and tacho types)
Minimum correction ratio; 1:10
Maximum correction ratio; 10:1
Physical size; approx 58 x 43 x 18 mm (2.25 x 1.7 x 0.7 inch)
Weight; 27 g (1 oz)


Ordering
Yellow Box YBX with Splice Harness - price $139.95 USD
Yellow Box YBX with Plug-n-play Harness - price $169.90 USD

Order Yellow Box Now!


Thank you for visiting YellR,
Home of the Yellow Box -"The world's best Speedo Recalibrator!"

This website has been simplified for mobile platforms. Our website policies.
All content Copyright © 1998 - 2023 YellR.
Website last updated October 10, 2023.


<!==========================================================================> <! Contents Pages; > <! * Yellow Box YBX (index.htm) > <! *Policies (Policy.htm) > <! * FAQ (yb_faq.htm) > <! * History (yb_hist.htm) > <! * Order Now! (ordering.htm) > <! * email us (email) > <!==========================================================================> <!==========================================================================> <! Footer links > <!==========================================================================> Yellow Box &nbsp &nbsp FAQ &nbsp &nbsp History &nbsp &nbsp Order Now! &nbsp &nbsp email us
<!==========================================================================> <! Close up page > <!==========================================================================>